This Raksha Bandhan Celebrate the Sweetness of Siblinghood

Posted on : 16th July 2015
Introduction
Raksha Bandhan is an ancient festival that hass been celebrated in India since time immemorial. Many historical legends and religious myths are associated with this auspicious festival. For example, some believes that this festival has its origin from the Great epic of Mahabharata. Draupadi (the wide of Pandava) tore a piece of her saree & tied around the bleeding finger of Lord Vasudeva. In return of this favour, Lord Vasudeva protected the dignity of Draupadi in the royal court of Hastinapura.
The festival is usually celebrated among brother-sister those having blood relations including siblings, cousins or distant family members and sometimes between biologically unrelated women & men. This vibrant festival transcends blood relations. It unites men & women across various caste, creed, religious communities and ethnic groups. Ritually this festival emphasizes harmony, love and respect for women. Rakhi is observed on Shravana Purnima (i.e. full moon day) as per the Hindu calendar in the month of August every year.
Significance of Raksha Bandhan
Thus, Raksha Bandhan or rakhi literally means "the knot of protection". Rakhi symbolizes the expression of a sister's love as well as pledge a brother to guard and take care of her under all circumstances. It means that the brother is responsible and committed to protect her sister against all odds throughout the life. On the other hand sister is committed to pray for the longevity, good health and prosperity of her brother. It is a unique festival that celebrates the sacred bond of love between a sister and a brother. Sister keeps fast, performs puja for their dear brothers and ties a religious thread (i.e. Rakhi) around his wrist. They feed traditional sweets to each other and also get distributed in the entire family. Siblings also like to exchange wonderful gifts and greeting cards.
Different Types of Rakhi
Lumba Rakhi
This is a pair of rakhi comes for brother and sister in law (i.e. for Bhaiya & Bhabhi) as well. Lumba Rakhis are made of various materials like pearl, beautiful stones and colourful thread.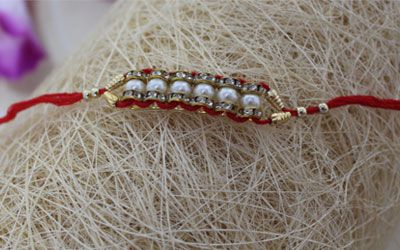 Cartoon Rakhi
Such rakhi comes with funky motifs in form of cartoon characters. They resemble the figure of popular cartoons like Angry birds, Doraemon, Micky mouse, Batman, Donald duck, Tweety, Tom n jerry, Spider man or any other character popular among the children. These big and colourful Rakhis meant for kids.
Sandalwood Rakhi
As the name suggests, these Rakhis are made sandalwood pieces in various decorative patterns. There may be flower petals, small animals or some spiritual idols made of sandalwood. Sometimes this rakhi has sandalwood beads to give a traditional look. The charming fragrances of sandalwood add an extra freshness to the Rakhi festival.
Floral Rakhi
These are the Rakhis are found in many floral shapes and designs. Flower shapes like lotus, rose and sunflowers (small or big in size) are used in the centre. These Rakhis naturally comes with sweet fragrance.
Peacock rakhi
Rakhi made of peacock feather absolutely looks brilliant & remarkable. They also crafted with beads in contrasting colour and white pearls.
Zari Rakhi
These special Rakhis are made of Zari threads and imparts a royal look. Besides using the zari as thread, it also preferred for making the attractive motif of the Rakhi. The zari used is usually silver or golden. Therefore it appears shiny and gives a very marvelous look.
Resham Rakhi
Resham Rakhis or Reshami Rakhis are beautiful Rakhis which are made using Resham (silk) threads. Such Rakhis are very soft and smooth in touch and look elegant.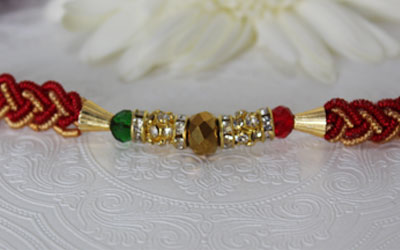 Gold-Siver coated Rakhi
These Rakhis are prepared by using metallic coatings of the precious metals such as silver and gold. They give a stunning look. These metals are casted in various designs like flowers, Indian Gods and Goddesses and even tiny beads and crafted to form Rakhis. These Rakhis also expensive and have a keepsake value.
Shree-Om Rakhi
Rakhis containing the symbols of Hindu Dharma, like the 'Shree' sign, the 'Om' sign and the 'Swastika' signs are also in demand. Such Rakhis leave a religious impression. So, these Rakhis are especially popular among the old people.
Beads Rakhi
The Rakhis are made of multi coloured or same coloured beads. Sometimes the central motifs come with embedded beads of tiny or larger sized. Satin ribbons are used as thread for tying purpose.
Stone Studded Rakhi
These Rakhis are designed by using different sizes of precious and semi precious stones. American Diamonds, Opal, Sapphire, Emerald, Ruby or Topaz can be used for making Stone Rakhis. A Rakhi decorated with sparkling white stones looks simply marvelous.
Pearl Rakhi
Pearl rakhi simply looks elegant & stunning. These rakhis are made of rare gemstones of pearl. Sometimes pearls are also paired with golden or silver beads.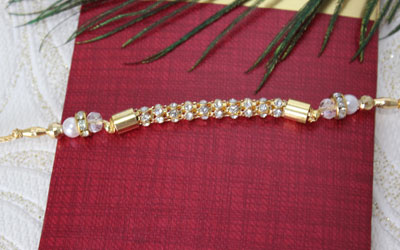 Nowadays online stores have come up with Designer as well as Ethnic range of Rakhis. Some of the authenticated online stores in India known for free shipping of rakhi are www.giftalove.com/rakhi, Rakhi.primogiftsindia.com, www.sendrakhi.com, Rakhibazaar.com and Rakhi.in.