Top 20 Trending Rakhis: Here's how you can Celebrate Raksha Bandhan 2017 with Glee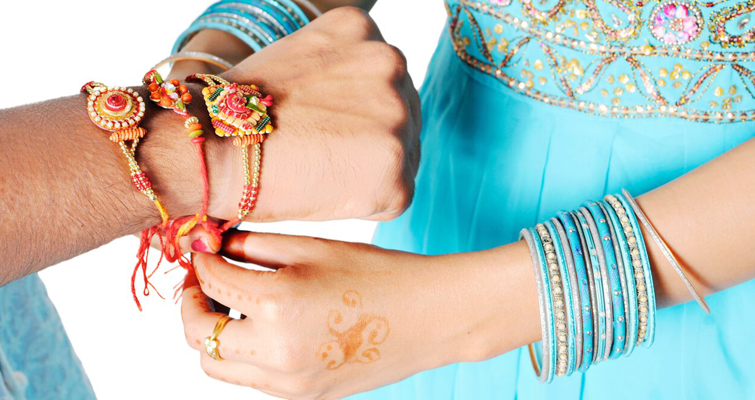 Posted on : 27th July 2017
We are once again in the celebration zone of the utterly pious bond of brothers and sisters!! The whole India is cautiously getting itself ready to take a leap forward in the direction of making the most admirable endeavour in direction of a life filled with positivity.
The connecting thread that is the Raksha Bandhan thread speaks the language of brother-sister love!! And so it's evident that sisters ardently start looking for the best Rakhis for their brothers for a befitting celebration. These days, there are a number of stores that provide online Rakhis and make it simple and easy to search for the most fancy & beautiful Raksha thread.
Make this Raksha Bandhan 2022 celebration an unequivocally vigour and love-laden by bringing home for your brother, these top trending Rakhis as discussed below, that you can easily find on various online rakhi stores.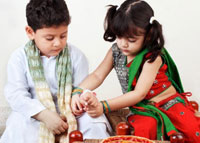 1. Bracelet Rakhi
These are those gorgeously beautiful Rakhis that can be worn all through the year and even they enhance the way you look. Brothers can match with their attires and flaunt these Rakhis in style even after the Raksha Bandhan celebration is over. These Rakhis can be used as fashionable bracelets!
2. Silver Rakhi
Silver is one of the most auspicious colors and it perfectly adds on to the beauty of the one who wears it. Shining and glittering silver Rakhi will not only enhance your brother's look but it will also bring in more luck & auspiciousness in his life.
3. Golden Rakhi
For years, Golden has been favourite of most Indians!! A golden shining Rakhi will be something that will amaze your brother. Golden Rakhis are the one which may and may not be embellished with beads and stones with the base of golden colour all over the Rakhi thread.
4. Peacock Rakhi
Peacock Rakhis strike a note at the beauty of the relationship of brothers and sisters!! Peacock Rakhis are the one that have been either designed in a peacock or the one which have been embellished with feather of a peacock.
5. Lumba Rakhi
Bhabhi is a special part of your Bhaiya and so it feels great to find a friend out of your relationship with your Bhabhi. Lumba Rakhis are particularly for your Bhabhi!!
6. Bhaiya Bhabhi Rakhi
This one is an endearing pair of symmetric Rakhis both for Bhaiya and Bhabhi!!If you have a loving sister-in-law then on the day of Raksha Bandhan, you can give her a special feeling by gifting to both Bhaiya and bhabhi this pair of Rakhi for Bhaiya and Bhabhi..
7. Zardosi Rakhi
Zardosi Rakhis are the one which have Zardosi designing!! Zardosi is that style of embroidery that uses silver wires to decorate velvet fabric and satin. To beautify these Rakhis, along with the thread, satin, beads, pearls and other embellishments like shining stones are also used.
8. Chhota Bheem Rakhi
Kids love cartoons and Chhota Bheem is one of their most favourites!! If you have a kiddo little bro then Chhota Bheem Rakhi could be one of the best ideas that he will love wearing. After Raksha Bandhan, he may also play with this type of Rakhi.
9. Doremon Rakhi
Doremon entices most of the kids!! Not only watching the shows of doremon but kids will love having everything in their life made in the doremon shape. If you have a little brother then he will love the idea of a Doremon Rakhi.
10. Pearl Rakhi
Pearls itself are so very soothing that they can take away anyone's heart just at the first sight!! Pearl Rakhis are those which are embellished with aesthetically beautiful pearls! To enhance the beauty of your brother's wrist, this can be the perfect gift.
11. Mauli Rakhi
Mauli thread is considered to be very sacred in the Hindu religion and before starting with any auspicious occasion Hindus believe that tying Mauli dhaga will bring the blessing of God. Raksha Bandhan threaded with Mauli thread is known as Mauli Rakhi. Indubitably, tying this Rakhi will keep your brother blessed with the blessings of the almighty.
12. Rudraksha Rakhi
Rudraksha Rakhi is the one, which is made with the divine Rudraksha!! This type of Rakhis can be the most perfect choice if you want to bring in more luck and divinity in your brother's life. Sometimes, these Rakhis also have embellishment of beads and attractive stones.
13. Kundan Rakhi
Kundan Rakhis are made with Kundan embroidery work which is the amalgamation of Zardosi work and Kundan work. These Rakhis are perfect piece of examples of beauty and ethnicity!! In these Rakhis, a base of Zardosi work is embellished with stones and beads
14. Sandalwood Rakhi
If you want to imbue a lot of happiness, God's blessings and luck in your brother's life then this one is a perfect choice to make. Sandalwood Rakhi is made with a designing in the middle with sandalwood and that's what makes this one a perfect choice of Rakhi for Raksha Bandhan
15. Handcrafted Rakhi
No matter what handcrafted Rakhis will never become out of fashion!! Crafting Rakhis with your own hands is one of the perfect ideas to surprise brothers pleasantly on the day of Raksha Bandhan. Show your own creativity and surprise your loving brother with hand crafted Rakhi!!
16. Auspicious Rakhi
An auspicious Rakhi can bring in lots of love and prosperity in your brothers' life that you have been praying for. On this Raksha Bandhan bring in the divine blessing in your brother's life by adoring his wrist with a beautiful & auspicious Rakhi.
17. Diamond Rakhi
You must have been looking out for a diamond Rakhi for your diamond brother! There are varieties of diamond like American diamond that are used to make breathe-taking Rakhis. You can always ignite that feeling of love between you and brother by embellishing his wrist with an amazingly beautiful Rakhi.
18. Swastika Rakhi
Swastika is the symbol in the Hindu religion that keeps a great significance and if your Rakhi is made in the shape of Swastika then nothing can be as comparable to it. And, adding this divine Rakhi to the Puja thali will bring in more and more love & prosperity in your brother's life.
19. OM Rakhi
It is believed that the pronunciation of OM can alone diminish you pain! An OM rakhi is the most perfect type of Rakhi for a spiritual brother. He will love to see that divine thread on his wrist and every time he will look at it his life will become happier.
20. Cartoon Rakhi
Those who have a younger little brother can opt for this type of Rakhi!! There are a variety of cartoon Rakhis are available online. You can choose the one your sweet brother loves the most! Some children love superman, some love Ben 10 and many more. Your brother will be excited to play with the cartoon design over the Rakhi.
So, these are those enticing Rakhis which are in trend in 2018!! Make your brother feel loved with this really indulging Rakhi designs. These Rakhis give an intense sense of love and passion in the relationship of brothers and sisters. Tie these Rakhi threads to imbue feverish sensibility in the relationship this Raksha Bandhan.
Send Your Fedback