Rakhi Recipes

Rakhi is an auspicious festival that holds a special significance in Indian culture. It represents the chaste and subtle bond of love and affection between a brother and a sister and calls for a celebration with the best of festive food. Rakhi is a day to arrange a lavish feast for your brothers and sisters with finger-licking recipes. Try out the following dishes and share your favourite rakhi recipe with us. We shall publish your Raksha Bandhan recipe on this page along with your name. Go ahead and send your special rakhi recipe to add more excitement to the festival. Please click here to send your Rakhi Recipe.
List of Raksha Bandhan Recipes
Banana Cutlets
Vermicelli Kheer
Vegetable Pancakes
Pakoras
Mal Pua
Khoya Burfi
Tamarind Rice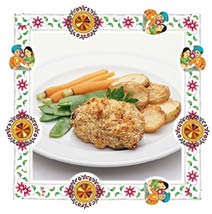 Banana Cutlets
Ingredients:
6 Raw bananas
1/4 cup fresh peas, boiled
1/4 cup beet root, boiled and finely chopped
1 tbsp. each mint leaves & coriander leaves finely chopped
4-5 green chillies finely chopped
1" piece ginger grated(optional)
1/2 tsp. each mustard & cumin seeds
1/2 tsp asafetida
1/2 tsp. turmeric powder
1 tsp. Amchur
oil to deep fry
1-1/2 cups Breadcrumbs
salt to taste
Method
Steam whole bananas with skins, till soft. Remove skins. Mash while still hot. And keep aside. Heat 2 tbsp. oil in a pan, add seeds, allow to splutter. Add asafoetida, mint, coriander, chillies, ginger, amchur, peas and beet root. Mix this well with the mashed bananas. Add salt and other spices as well.
Heat oil in a pan. Shape the cutlets with the mixture, roll them in the breadcrumbs and deep fry till golden brown. Drain and serve hot with green chutney or tamarind chutney or tomato ketchup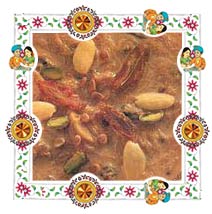 Vermicelli Kheer
Ingredients
1cup Roasted Vermacili
1.5 liter Milk
½ tsp. Cardamom Powder
½ tsp. Saffron
Dry fruit and resins
Boil the milk in a broad mouth pan add the roasted Vermicelli and sugar to taste. Let it boil till thick. Dissolve saffrom in 1tsp. Water. Add cardamom and saffron to the thick vermacelli and milk mixture Garnish with soaked almonds and resins.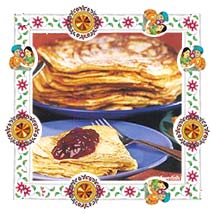 Vegetable Pancakes
Ingredients
250 grams Besan
3 tbsp Maida
2 tbsp cornflour
3 tbsp rice flour
1 teaspoon baking powder
1 Potato (large) finely chopped
1 carrot (large) finely chopped
2 onion, chopped
½ cumin powder
½ turmeric powder
3 spring onions, finely chopped
1 tablespoon fresh lemon juice
1-1/2 cups (375 ml) oil
1 cup (250 ml) water, approximately
Salt and red chilly powder to taste
300 ml water
Oil for shallow frying.
Method
Mix all the ingredients and make a thick batter with water. Keep aside for 10 minutes. In the mean time grease a pan and heat it. Now drop the batter in 2'' rounds in the pan fry till deep yellow on both the sides. Serve hot with green chutney or tomato ketchup.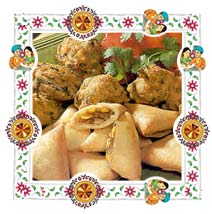 Pakoras
Ingredients
250 grams besan
½ tsp. turmeric
½ tsp. red chilly powder
1 tsp. dried pomegranate seeds
1 tsp. Coriander paste
1 medium sized onion, chopped
1 medium sized potato, chopped
1 green chilly chopped.
Salt to taste
Method
Mix all the ingredients to make a thick batter. Heat oil in a frying pan. Drop chunks of the batter in hot oil and fry till light brown. Drain cut into small pieces using a blint knife and re fry till crisp. Serve hot with green chuttney and tamarind chutney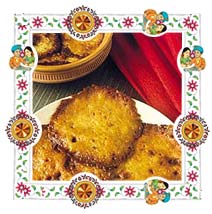 Mal Pua
Ingredients
250 grams plain flour, sifted water
1 tbsp. powdered sugar
oil for frying
Sugar Syrup
500 grams sugar
625 ml water
Garnish
1/4 teaspoon ground cardamom
Rose water
Fresh cream sweetened
Sugar syrup
Put sugar and water in a saucepan and bring to boil. Simmer for 8-10 minutes till thick syrup is formed.
Mix sifted flour, sugar and water to form smooth, medium thickness batter and keep aside for 30 min. Heat oil in a shallow flat bottomed pan. Carefully spread the mixture in the pan and fry till golden brown. Transfer the pancake into the sugar syrup. Serve hot garnished with cardamom, rosewater and fresh cream.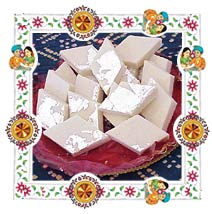 Khoya Burfi
Ingredients
1 Lt. Milk
75 gms sugar
50 grams naryal chura (coconut powder)
20 grams pistachios, chopped
20 grams almonds, chopped
Method
Boil milk reduce heat and let it simmer for 45-minutes to one hour till thick paste like. Keep stirring in between. Add sugar and coconut powder and stir till sugar dissolces. Grease a thali and pour the batter. Garnish with pistachios and almonds. Let it cool and cut into square or rhomboid pieces.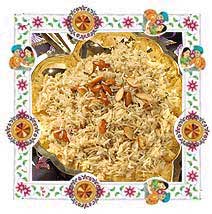 Tamarind Rice
Ingredients
3 cups Rice cooked with 1 tbsp butter/ghee/oil
1/2 cup thick Tamarind extract
3 tbsp Channa Dal
2 tbsp grated Ginger
2 level tsp Red Chili powder
1 level tsp Turmeric powder
1/4 tsp Asafetida powder
6-8 Green Chilies slit in two
3-4 dry Chilies
Few Curry Leaves
5 tbsp Cashew nuts (broken up and kept)- Optional
1/2 cup Vegetable Oil
Salt to Taste
Method
1. Heat ½ cup vegetable oil.
2. When the oil is hot add the chana dal, dry chillies, curry leaves, green chillies, asafetida powder or a small piece of solid Asafetida.
3. Fry until the Dal is golden brown.
4. Now, add the salt, turmeric powder, chili powder, grated ginger, broken cashew nuts and stir for a few minutes on a low flame. Don't let the turmeric and chili powder burn.
5. Boil for 15-20 minutes till the quantity reduces to half and the mixture becomes thick.
6. Put the cooked rice in a dish, add the prepared mixture and required quantity of the Tamarind extract.
7. Mix to the rice and stir well. Keep covered until ready to serve.