Rakhi Articles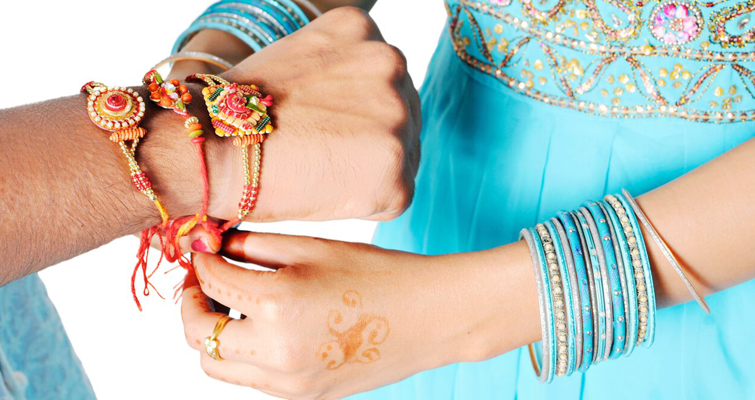 5 Popular websites for rakhi shopping 2022
Posted on : 9th June 2022
Festivals are occasions when we have to do so much preparation in very little time. Like during Raksha Bandhan, everyone has to buy gifts, sweets, and Rakhi for their brothers on the one hand, prepare meals, decorate the house, and manage everything else on the other hand....
Raksha Bandhan Gifting Manual: Make this Rakhi memorable!!!
Posted on : 9th August 2021
Finding the right gift for a loved one is an art, and one can hone this art by understanding the crux of the gifting process. A gift should make other people feel special, so to get this kind of gift, it is necessary to understand the needs and wants of the gift receiver. Selecting Raksha Bandhan gift can be the easiest or most challenging part of the festival as we all understand the mind of siblings, but we all also know that their expectations from us are sky-high...
Here's the Nitty-Gritty of Raksha Bandhan Celebration
Posted on : 29th June 2021
Raksha Bandhan is celebrated every year on the full Moon day of Shravana month but the date on which it is celebrated every year varies. This year Raksha Bandhan will be celebrated on 26th of August.
Top 20 Trending Rakhis: Here's how you can Celebrate Raksha Bandhan 2017 with Glee
Posted on : 27th July 2017
We are once again in the celebration zone of the utterly pious bond of brothers and sisters!! The whole India is cautiously getting itself ready to take a leap forward in the direction of making the most admirable endeavour in direction of a life filled with positivity.
Raksha Bandhan as Virtue of Protection and Symbol of Solidarity
Posted on : 13th July 2017
The fact can never be negated that Raksha Bandhan is the festival that idolizes the relentless love and devotion of a brother and his sister. It venerates the pure love of siblings who have always upheld each other in unfavorable times. All over the country siblings are noticed every year obsessed with buying of the best Rakhi gifts for each other...
Rakhi Bazaar 2017 is Soon to Witness an Infinite Range...
Posted on : 19th June 2017
It will be nothing wrong Rakhi bazaar is the life and soul of the festive celebration of Raksha Bandhan. We all know that Raksha Bandhan falls every year on the full-moon night of the Shravan month of the Hindu calendar. However, the incitement related to it begins almost a month before. This makes it seem like a month-long festive season. The fervor associated with this festival can be easily...
Raksha Bandhan –Honouring the Divine Bond
Posted on : 28th July 2016
Raksha Bandhan also known as Rakhi Purnima or simply Rakhi is a Hindu festival that is celebrated in most part of India. Raksha Bandhan is one of the most awaited festivals in India. The festival is celebrated during the Hindu month of shravan on full moon day. This year's Raksha Bandhan falls on 18th August. This symbolic festival is celebrated to honour the love and bond of siblings.
A Celebration of Strengthening Brother-Sister Bond
Posted on : 14th July 2016
Celebrating the eternal bond between brothers and sisters on a full moon day in the month of Shravana (August) is the festival of Raksha Bandhan. On this day, sisters tie pious thread on their brother's wrists for their well being and longevity. Sequentially, brothers bounded by the fragile thread to relish and shield their sisters from all ills and evils. The delicate thread signifies a deep undying relationship which is tender, indulgent and devoted.
Raksha Bandhan: The Celebration of a Sacred Bond
Posted on : 2nd July 2016
Raksha Bandhan is the festival of joy and brotherhood. It brings about a ray of enjoyment among all the siblings that are connected to each other through this sacred thread. They come and rejoice about the fact that the bond that they share is eternal and pious. This festival embarks the celebration of this bond and makes it last forever in the hearts of the siblings. Rakhis are the perfect way of saying that they mean a lot and this bond is what will bind us together forever.
Rakhi Celebration: Full of Excitement, Happiness and Fun!
Posted on : 13th August 2015
For the people of India it's time to rejoice and feel excited as Raksha Bandhan the popular cultural festivals of India that speaks about the unconditional and most affectionate bond of love between brothers and sisters. Thus now when the festival of Brother-Sister love is approaching people of India are getting ready for a cheerful Raksha Bandhan celebration 2015!
Tips for Selecting Rakhi Gifts
Posted on : 19th July 2015
Rakhi is a festival that celebrates a brother sister relationship. Raksha Bandhan, the day stands for the unconditional love and affection shared between siblings. The ritual of gifting is an indispensable part of the celebrations on Rakhi day. Thus, selecting gifts on Rakshabandhan for sisters or brothers becomes an incredibly important task. Here are some pointers to be kept in mind while choosing Rakhi gifts.
This Raksha Bandhan Celebrate the Sweetness of Siblinghood
Posted on : 16th July 2015
Raksha Bandhan is an ancient festival that hass been celebrated in India since time immemorial. Many historical legends and religious myths are associated with this auspicious festival. For example, some believes that this festival has its origin from the Great epic of Mahabharata. Draupadi (the wide of Pandava) tore a piece of her saree & tied around the bleeding finger of Lord Vasudeva. In return of this favour, Lord Vasudeva protected the dignity of Draupadi in the royal court of Hastinapura.
This Raksha Bandhan Let your Sis Go Trendy with in-trend Jewelry
Posted on : 21st June 2015
There is nothing more exciting than preparing for festivals. This Raksha Bandhan, add oomph to your festive wardrobe with jewelry. A pair of sparkly earrings, a pretty ring and a jangly necklace is sure to bring smile on your face. As Rakhi festival marks the beginning of the festive season, it's the best time to splurge on jewelry buying. Here we bring you some tips on jewelry buying for Raksha Bandhan With personality of a lady going through transitions drastically, her choices have also got changed.
Rakhi Celebrations in India
Posted on : 24th April 2010
Rakhi is undoubtedly one of the most popular cultural festivals in India. It is an occasion that speaks of the undying love between a brother and a sister. Raksha bandhan is a promise to protect and cherish forever the sacred bond that symbolises this relationship. This is one of those rare ancient cultural occasions that does not limit the rituals to a brother and a sister. You need not be a related by blood or family to tie a rakhi and do pooja on Rakshabandhan.
History and Significance of Raksha Bandhan
Posted on : 7th July 2015
Raksha Bandhan is a term from the Hindi language which means a relationship or an association based on protection. This is a festival which has a long standing Indian heritage. More commonly known as Rakhi, this Indian festival signifies the sacred bond of love between a brother and sister.
Trend and Benefits of Online Rakhi Gifts Shopping
Posted on : 20th July 2009
The festival of Rakhi is approaching and people around the world are full of excitement and enthusiasm. All the markets will be soon flooded with beautiful rakhi and rakhi gifts specially made for this occasion. Many stores will suspend their regular business and will stock designer colorful Rakhi for the year's festival. On this occasion, ladies are seen crowding the Rakhi stores and purchasing Rakhis for their brothers.
Send Online Rakhi Gifts across the world
Posted on : 16th July 2009
Rakhi festival symbolize the eternal love and affection which holds the brother-sister relationship since ages and has become the true spirit of this relationship. The occasion provides an opportunity to recall those people which are here to make our life heaven. It acknowledges the festivity of moments by tying a sacred thread of protection embellished with the love and affection of a sister for her brother.
Lure your brother with different variety of Rakhi
Posted on : 13th July 2009
Raksha Bandhan is a special occasion in India which seeks to celebrate the relationship between a brother and a sister. The essence of Rakhi festival lies in the pure heavenly relationship shared between a brother and a sister. Different parts of India celebrate this festival differently yet the ritual of tying rakhi to seek protection remains the same all over the country.
Semi-Precious Rakhi – An Evergreen gift for your dear ones
Posted on : 9th July 2009
Semi-precious rakhi is the symbol of Royalty and elegance. Rakhi designed with semi-precious stones and metals is the depiction of mesmerizing beauty and ethnicity. Tying a precious rakhi on the wrist of brothers by sisters implies that she is binding royalty and happiness to him.
Celebration of Raksha Bandhan festival in India
Posted on : 6th July 2009
India is well known for its rich culture and festivals. Each and every festival has its own significance and own way of celebration. Rakhi or Raksha Bandhan as it is commonly known, stands out as a unique gift of Indian culture.The simple thread of Rakhi embellished with other materials represent the sacred love of brother and sister. Sisters ties rakhi on brother's wrist and pray for their success and well-being.
Rakhi – Traditional and Stylish forms of rakhi
Posted on : 2nd July 2009
Raksha Bandhan is a major Hindu festival that is celebrated with great enthusiasm around the world. The rituals followed on this festival involves tying a sacred thread called 'Rakhi' on the brother's wrist by the sister and praying for his goodness. In return, brothers take an oath to protect their sisters from all the evils of the world. As per the budget and preferences of people, numerous styles and designs of rakhi are available in the market. Some of the most popular variety of rakhi are discussed below.
Rakhi - A knot blessed with love and affection
Posted on : 29th June 2009
Rakhi is a traditional Hindu festival symbolizing the love and affection between a brother and a sister. This is a festival wherein the sister pray for the safety and happiness of her brother. It is also known as 'Raksha Bandhan' that means a 'knot of protection'. Every year, this festival is celebrated on shravan poornima as per the Hindu calendar.
Changing Ways of Sending Rakhi
Posted on : 25th June 2009
Raksha Bandhan is an auspicious occasion to rejoice the unifying and ever-lasting bond of love, care and respect between brothers and sisters. The festival conveys the special message of righteousness, well-being and harmony among all sections of society. Rakhi celebration enhances a form of morality, security and amity.
Express your love with heart-taking Rakhi gifts for brothers
Posted on : 22nd June 2009
Rakhi festival is one of the major occasion in India to celebrate the sacred relation between a brother and a sister. The festival is not only tying the rakhi thread on the brother's wrist but to express their love and affection for each other. The relationship between a brother and sister is one of the best relation on this earth.
Make your sister feel special by presenting her the best Rakhi gift
Posted on : 18th June 2009
The famous Indian festival Raksha Bandhan is nothing less than a day of grand celebration in the Hindu religion. It is celebrated worldwide to cherish the unconditionally blessed relationship between brothers and sisters. It involves tying of a Rakhi thread on the brother's wrist by his sister. They both pray for the well-being of each other and the brother make a promise to protect and stand by his sister in any circumstances.