Rakhi Celebration: Full of Excitement, Happiness and Fun!

Posted on : 13th August 2015
For the people of India it's time to rejoice and feel excited as Raksha Bandhan the popular cultural festivals of India that speaks about the unconditional and most affectionate bond of love between brothers and sisters. Thus now when the festival of Brother-Sister love is approaching people of India are getting ready for a cheerful Raksha Bandhan celebration 2015!
The bond of Brother-Sister love is very unique. It is full of love, care, jealousy, hatred, possessiveness, excitement, sharing and lot much that is hard to find in any other relationship. Thus to dedicate a day for the celebration of this amazing bond of love, Raksha Bandhan festival has been introduced by the ancient people of India.
This festival is not just a day for brothers and sisters to come together and strengthen their bond of love rather it's a day that also reflects the Indian traditions and cultures. Thus when its Rakhi, everyone is much excited and busy in various preparations of the festival that are to mention as:
Rakhi festival Pooja Preparations: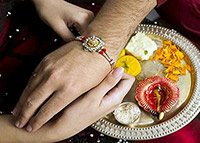 Raksha Bandhan that is also referred as Rakhi is one of the holy festivals of Indians that is celebrated every year with great fervor. Thus when its Rakhi celebration round the corner, everyone is obvious to get busy in the preparations for Rakhi pooja. On the Rakhi celebration every sister performs an aarti of her brother with the holy flame, marks a tilak with roli and chawal on his forehead, tie the sacred thread on his wrist, offer him sweets and prays to God for the well being and long life of her brother. Thus before Rakhi everyone arranges all such essentials for the Rakhi Pooja thali that consists all.
Rakhis Thread Shopping:
When its Raksha Bandhan around the foremost concern of every sister is to buy a Rakhi thread for her dearest husband. Be she is a sister of any age, Rakhi thread shopping excites every girl or women. Also markets and shopping areas get filled with the vast array of beautiful and colorful Rakhis in amazing designs and patterns and sisters get busy in searching the best Rakhi thread for brother. After all it is the search for sacred Rakhi thread that every brother ties on her brother's wrist to strengthen their bond of love, care and affection.
Rakhi Gifts Shopping:
Another preparation for the Rakhi celebration is the search for the best Rakhi gift to surprise every brother or sister. Rakhi gift is basically the token of love for every brother and sister to gift each other and express heartily feelings of love with it. Thus the Rakhi gift that one plans to gift and surprise his or brother or sister with needs to be something special and loving. And to cater everyone's need for the perfect and most cheerful Rakhi gifts, markets, shopping areas, gift shops and online gift selling portals get filled with variety of attractive Rakhi gifts like Soft toys, Chocolate Combos, Jewelery, Rakhi with Sweets, Rakhi with Dryfruits, Good Luck Gifts, Rakhi with Pooja Thali, Handbags, Rakhi with Chocolates, Rakhi with Greeting Cards, Rakhi Gifts Hamper, Rakhi with Cake, Rakhi with Fruits, Rakhi with Flowers and much more such gift options.
Family Get Together Preparations:
Rakhi is one of the most cheerful and awaited festival celebrations that every brother and sister not just celebrate with each other but with entire family and loved ones. Thus the Rakhi celebration day turns out as a big event day for most of the families in India. All the elders and youngsters of the family come together and celebrate Raksha Bandhan by following all the rituals of the festival that is tying Rakhi threads to brother, exchange of gifts and having sweets. Thus every brother and sister enjoy the day to fullest and every Indian family starts their Raksha Bandhan get together preparations from much prior to the day with Rakhi gifts shopping, Rakhi sweets shopping and lot much.
So this Raksha Bandhan, add more fun and happiness into the festival with all such preparations! However to buy affectionate and unique Rakhi gifts online, you can log on to that is one of the renowned online Rakhi selling portals of India. Also one can buy and send Rakhi gifts to India and worldwide via the portal!
Send Your Fedback