Rakhi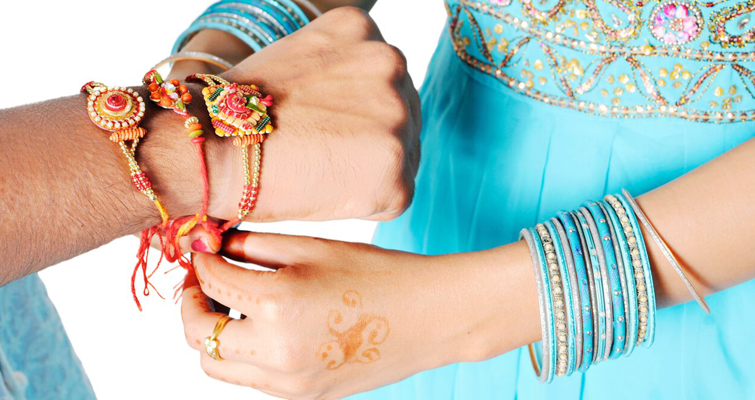 Rakhi stands for the celebration of emotions and is also known as Raksha Bandhan – the knot of protection. People have a belief that the thread of Rakhi has a strong power to hold the affectionate relation of a brother and sister. Since ages, this festival is being celebrated to cherish the most sacred relation on this globe. The festival of Rakhi is celebrated in almost all the corners of this world and the name of this festival changes as soon as one enters into a new region.
India is worldly known for its strong family based system, therefore, Rakhi is celebrated with lots of hues of love and care. The festivity of Rakhi has been showcasing the eternal love and care between brothers and sisters. This festival of Rakhi is seen as a way of expressing your love for those who are always there in dark days of your life.
Symbol of love and liveliness
This festival is celebrated with lots of love and frolic in India. In addition of tying Rakhis on the wrist of brothers, relishing tempting and mouth watering dishes, exchange of gift items, lots of other elements are also present there in this festival. All these actions collectively make the festival of Rakhi all the more interesting. Rakhis festival is so colorful and enjoyable that people always look forward for this day to arrive.
This day starts with tying a Rakhi thread on the brother's wrist by the sister. Rakhis are a symbol of love and affection of sisters for their dearest brothers. Brothers likewise understands the true meaning of rakhi and by extending his wrist forward, he promises to protect her from all hardships of life. Sisters also apply kumkum powder on the forehead of their brother and perform aarti before him for showering their brothers with blessings of god. In other words, Raksha Bandhan is a synonym of love and feelings that is shared by siblings.
A day to unite and enjoy
Brothers and sisters from all the corners of this world indulge into joyful and pleasant moments of day by tying a beautiful Rakhi and exchange of gifts. This is considered as the best time to enjoy with your near and dear ones by treating the taste buds with finger-licking dishes and delicious sweets. It is a day to exchange lots of wonderful Rakhi gifts wrapped with love and emotions. All those sisters who can't meet their brothers, will send their Rakhi with their hearty wishes via post or by placing an online order. This world will be united as one because the day brings in the feel of togetherness to all.