Rakhi Gift Ideas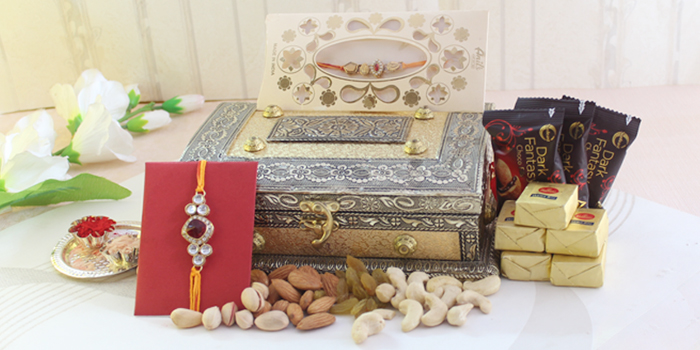 Raksha Bandhan holds immense significance for brothers and sisters in India and so does Rakhi Gifts. Every year siblings scratch their heads for that bright and brilliant Rakhi Gift Idea. To make that tedious process a bit easy we are presenting some innovative Rakhi Gift Ideas for brothers and amazingly delightful gift ideas for sisters. Some practical tips on Rakhi Gift selection has also been included in the text to help you choose the most perfect and memorable Rakhi Gift for your sibling.
Tips for selecting Rakhi Gift:
Keep in mind the choice of your siblings. For example consider his / her hobbies and areas of interest.
Think if there is anything your sibling has been planning to buy for a long time but has not managed to purchase it on his / her own. If yes, then surprise by making his / her wish come true sooner than expected.
Ensure the gift is of good quality and trendy at the same time. This aspect holds a lot more importance in Raksha Bandhan as siblings attach a lot of emotions to Rakhi Gifts. For them Rakhi Gift is not just any other gift but a reflection of their siblings feelings for them.
Don't go over and above your budget. Remember your feelings behind the gift are more important than the digits written on the gift tag. So restrict to your budget.
Rakhi Gift Ideas for Brothers
1. For Trendy Brothers :
For brothers who love to sport a style statement some trendy gifts are desirable. One can go in for fancy goggles, mobile cases, deodorants, perfumes, watches and belts. A bracelet style Silver or Gold Rakhi will also be appreciated by them.
2. For Elder and Sober Brothers:

For big brothers an executive Shirt will be good Rakhi gift idea. You can select the shirt - plain, stripes or checks according to the taste of brother. Colour of the shirt too must be decided on the basis of your brother's choice not yours. Organisors, portfolio bags, designer pens, ties and cuff links are other ideas you can try.
3. For Studious Brothers

For bhaiyyas who are studying in school and college you can gift things that will be of benefit to them. How about a good reference book, some nice novels, trendy satchels or interesting CDs.
4. For Married Brothers

If your brother is married you can go in for household gifts like nice paintings, some crockery items or traditional Raksha Bandhan Gifts like box of sweets, dry fruits or chocolates.
5. For Kid Brothers

Pamper your kid brother with some games or games CDs. Or how about toys like cars or those representing their favourite cartoon characters. Chocolates, candies and other confectionery items will be relished by them.
Rakhi Gift Ideas for Sisters
1. For Sisters who are fond of Jewelry

Gift some nice jewelry items like rings, earrings or necklaces. You can go in for gold or diamonds if your budget suits otherwise artificial jewelry are a craze all over the world. Browse through some Rakhi Gifts sites and you will get ample of options.
2. For Fashion Conscious Sisters

fashion-conscious-sisters
Beaded and mirrored bags is an exciting and wonderful gift idea for sisters who are fashion conscious. Alternatively one can go in for nice perfumes, fancy tops or ethnic jewelry boxes.
3. For Kid Sisters

Little girls love to receive cute and huggable teddy bears, chocolates or some nice stationery items. You may also gift some novels or other reference books if she is fond of reading.
4. For Married Sisters

If your sister is married you can gift some household gifts like paintings or some fancy show piece. Perfume or jewelry items are other choices from which you can decide your Rakhi gift.