Lure your brother with different variety of Rakhi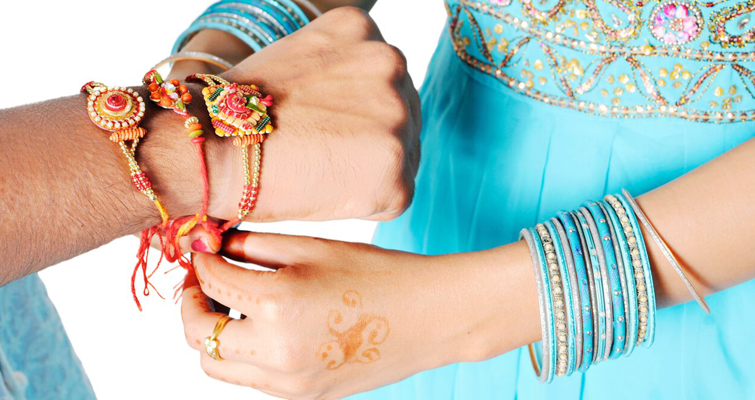 Express your love with heart-taking Rakhi gifts for brothers
Posted on : 22nd June 2009
Rakhi festival is one of the major occasion in India to celebrate the sacred relation between a brother and a sister. The festival is not only about tying the rakhi thread on the brother's wrist but to express their love and affection for each other. The relationship between a brother and a sister is one of the best relation on this earth.
The trend of giving attractive gifts on this festival is an age old tradition. Rakhi gifts, just like the festival, have a special meaning of their own. We give presents to our siblings throughout the year, but a rakhi gift on this occasion carries a totally different feeling. Before the commencement of rakhi festival, the market gets flooded with various variety of heart-taking rakhi gifts. Now-a-days, we can also send rakhi gifts to far off places. This is possible though Internet facilities. You will come across a number of on line sites that allows to send gifts worldwide within seconds. Sending gifts to brother staying abroad strengthen the bond which she shares with him. They send rakhi gifts to make them feel that she is always there.
For a brother, his sister is an angel sent by God who will stand by him whenever the going gets tough. Day-by-day this relation devises ways of making the world a better place to live in. The colors of life keep on changing, but one thing that remains the same is the unconditional sacred love between a brother and a sister. On the day of Raksha Bandhan, brothers promise their sisters to protect and honor under any circumstances.
Some popular Rakhi gifts:
All sisters wish to make their brother's life happy and peaceful. Gifting him something which he can cherish all his life is surely an achievement that he would relish on Raksha Bandhan. Being highly expressive, these beautiful and unique gifts clearly convey messages which words fail to transmit. Examples of few such rakhi gifts are mentioned below.
Branded perfumes and Body Sprays:
Perfumes and body sprays are integral part of life that reveals the personality of the wearer. Gifting a branded perfume or body deodrant along with a beautiful rakhi on this occasion is sure to lure any brother.
Shirts/T-shirts for Brothers:
Raksha Bandhan is a festival to be celebrated with enthusiasm, love, affection and rakhi gifts. It is not possible to complete the tradition of Rakhi without the exchange of gifts between brothers and sisters. Apparels like trendy shirts and t-shirts can create the bridge between your hearts. Cherish this special day with your loving brothers for many years to come as you tie a colorful Rakhi thread on your brother's wrist and then presenting them the most cool and trendy apparel sets.
Wrist Watches and Bracelets:
Now-a-days, the exclusively made wrist watches and bracelets are gradually replacing the traditional form of Rakhi. The idea of a wrist watch and aesthetically created bracelets work as an amazing Rakhi gifts for brothers. Wrist watches and bracelets are best option for those sisters who wish to send more valuable and utilitarian Rakhi to their brothers. These are perfect for brothers with traditional tastes.
Trendiest Gadgets:
If you think that your brother loves to adopt the latest technology and trendiest gadgets, then get him one on the day of Raksha Bandhan this year. Electronic gadgets are ideal gifts for brothers on this auspicious day. As per your budget and the requirement of your brother, you may choose one from an array of mobile phones, CDs and CD player, I-pods, cameras, electronic shavers and many more. Day-by-day, gadgets are becoming highly fashionable, advanced and need. These gadgets are very attractive and fascinating to the users and incorporate a series of functionality that enhances the value.
Send Your Fedback