Here's the Nitty-Gritty of Raksha Bandhan Celebration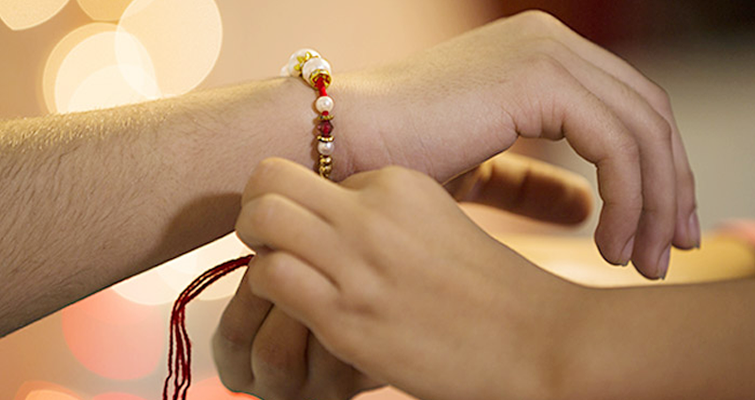 Posted on : 29th June 2018
Date of Raksha Bandhan 2018: 26th August 2018, Sunday

Raksha Bandhan is celebrated every year on the full Moon day of Shravana month but the date on which it is celebrated every year varies. This year Raksha Bandhan will be celebrated on 26th of August.
Best timing of Raksha Bandhan 2018
Best time for the Rakhi Tying
09:28 AM to 09:17 PM
Duration apt for Rakhi Tying
11 Hours 49 Mins
Raksha Bandhan Dates for the next five years (2018 – 2023)
Raksha Bandhan Date 2018: Sunday 26th August
Raksha Bandhan Date 2019: Thursday 15th August
Raksha Bandhan Date 2020: Monday 3th August
Raksha Bandhan Date 2021: Sunday 22nd August
Raksha Bandhan Date 2022: Thursday 11th August
Raksha Bandhan Date 2023: Wednesday 30th August
Why is Raksha Bandhan celebrated?
Raksha Bandhan is a way of celebrating the beautiful bond that is share between brothers and sisters. All the sisters out there tie the bond of love called as "Rakhi" on the wrists of their brothers to make them feel that nothing is more important than this beautiful bond of love and affection. In return brothers promise their sisters to provide a cover of protection as long as they will live.
An inexpensive thread when tied on the wrists of brothers become so expensive and powerful that nothing can mire their strength. There have been stories in the past relate to the strength of this powerful relationship of brother and sister and of the power of this beautiful bond of Raksha Bandhan.
Significance of Celebrating Raksha Bandhan
The word "Raksha Bandhan" has originated from two words that Raksha which means providing a protection to somebody and Bandhan which means a bond. So, the word Raksha Bandhan refers to the bond of protection that is shared between two people.
In the Hindu culture this day is celebrated popularly to appreciate the sanctity and purity of the bind that is shared between brothers and sisters. Apart from those brothers and sisters who are sharing the blood relationship, many of the non biological brothers and sisters celebrate this day.
Every sister prays for the well being of their brothers by tying the sacred bond of love and affection on their wrist. And, brothers present enticingly beautiful gifts to their sisters and they promise their sisters to protect them in every walk of life no matter what.
Legends of Raksha Bandhan Celebration
Draupadi and Krishna
One of the most heard stories of Raksha Bandhan is that of the story of Draupadi, who was the wife of Pandvas and Lord Krishna. On the ay of Makar Sankranti, there was incidence in which Krishna cut his fingers and so Draupadi tied one end of her Sari on his cut by tearing off one end of her Sari. Looking at the great affection of Draupadi, Krishna promised her to protect at every point in her life in every sphere. And, this promise of Krishna was immortalized when Krishna came to rescue of Draupadi when she was being disrobed (Cheerharan) as Krishna made the sari never ending which kept being extended. And, this is how Krishna kept his promise to protect her sister as long as she lives.
Story of Yama and the Yamuna
Once when Yama visited his sister Yamuna, she treated her brother with a gigantic feast overwhelmed with joy. She also tied a bond of love on her brother's wrist and overwhelmed with her affection Yama asked to tell him her wishes. And, Yamuna asked her brother to visit her as soon as possible. And, he was so much moved with the affection his sister showed he gifted her with eternal life and that is why Yamuna is the longest tributary of River Ganga and it flows all through the year tirelessly.
Send Your Fedback