Rakhi – A knot blessed with love and affection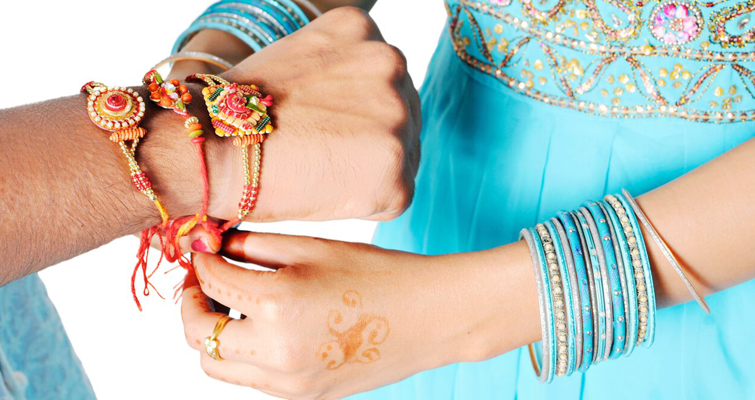 Posted on : 29th May 2015
Rakhi is a traditional Hindu festival symbolizing the love and affection between a brother and a sister. This is a festival wherein the sister pray for the safety and happiness of her brother. It is also known as 'Raksha Bandhan' that means a 'knot of protection'. Every year, this festival is celebrated on shravan poornima as per the Hindu calendar.
Raksha Bandhan is globally celebrated as the bond of love between brothers and sisters. Raksha means 'to protect', and Bandhan means 'bond', therefore Rakhi is a 'bond of protection'. On this auspicious day, sisters tie a thread of love and care to their brother's wrist amid chanting of mantras. They put roli and rice on their forehead and bless them for their well being. In return, brothers also promise to take care of her and wish her a good life.
Various names associated with Rakhi
India is a country of festivals and fairs, a land of culture and tradition. In the different states of India, this festival is celebrated by different names. For example, in the western Indian region, Rakhi is called "Nariyal Purnima" and signify the full moon like coconut. In southern India, this festival is known as "Avani Avittam or Upakarmam". "Kajari Purnima" is the name by which Raksha bandhan is celebrated in the central India and in other areas rakhi is also known as "Rakhi Purnima".
Tradition of Sending Rakhi Gifts
Presenting exclusive and attractive Rakhi gifts to siblings has become an integral part of this festival. Since ancient period, Rakhi has been celebrated in the same way and with the same enthusiasm.
Even in this modern era, Rakhi has retained its sacred sensation and glory. All brothers and sisters, wherever they may be, celebrate this festival together. These days, people can also send rakhi gifts to their siblings across the globe. Sending rakhi gifts is the best option to share their love. The gift is a physical acceptance of love and a symbol of their togetherness. There are numbers of online sites that provide you the facility to send rakhi and rakhi gifts like rakhi sweets, rakhi gift combos, rakhi greetings, etc. in minutes to any address around the world. Nowadays, expensive rakhis like Silver Rakhi, Pearl Rakhi and Gold Rakhi are very much in trend. So, why to be unhappy if your brother or sister is not around. You can still convey your affection by sending beautiful and attractive rakhi gifts to them. With the changing time, the trend of return gift has also become popular.
Send Your Fedback